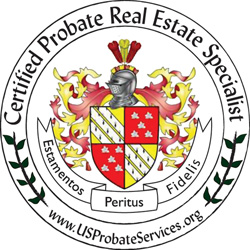 In 2005 I experience by first probate sale on the selling side in
2006and it was not until 2012 that I realized it was my calling.
My Dad used to call me the "Philadelphia lawyer" because I love to
debate the issues with him a New York Book Dealer by trade. Now I find
that going to the court house and working with grieving families who
have lost loved ones understand the system is how I was intended to
serve all along.
I became Probate Certified this year (2012) and now with many sold
homes under my belt I am making it a focal point of my business.
Please call me today so that I can help you, your friends or your
loved ones through this difficult process and allow my expertise to make
it successful and easy for you today.
Call me Now and ask about the special low commission rate I offer sellers!
209-988-1173







Step








Duration










Prepare and file Petition for Probate








1-2 months










Court Hearing for the Petition for Probate








2-3 months










The Following are Issued: Letters of Administration, Orders for Probate, Duties and Liabilities, Issue Bond (if ordered), and **Letters of Testamentary**








2-4 months




(If not contested)










Notice of Creditors








2-4 months










Notice to Department of Health Services Inventory & Appraisement








4-8 months










Pay State and Federal Taxes (If necessary)








6-12months










Allow or Reject Creditor Claims

















Possible Preliminary Distributions

















Notice to Department of Health Services (if deceased received medical)

















Notice to Franchise Tax Board (if heir is out of state)

















Claim of Exemption (If Assets transfer to a minor)








6-15 months










Receive Final Tax letter from State and Federal (If appropriate)








6-18 months










File Petition for Final Distribution and Accounting








8-16 months










Hearing for Petition for Final Distribution and Accounting

















Order Approving Final Distribution and Accounting

















Distribution of Assets to Heirs








9-17 months










Final Discharge Order (indicates close of probate case)








9-18 months










Final Distribution of Funds








9-18 months